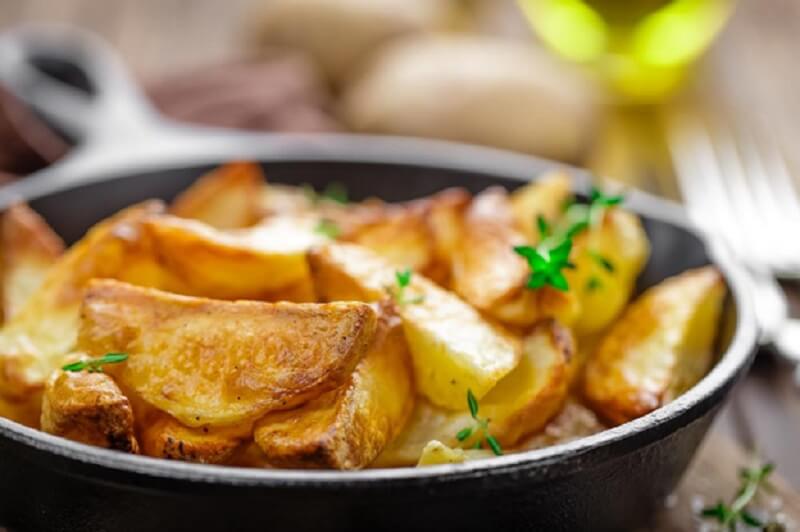 If you are a hardcore vegan or are on the lookout for healthier baked food options, you are in the right place. Here are some recipes that incorporate a number of vegan ingredients that tick both boxes:
1.Baked Eggs and Chickpeas
What you need
Olive oil (3 tbsps)
Thyme (2 stripped sprigs)
Garlic cloves (2, finely chopped)
Harissa paste (2 tsps)
Eggs (2, medium size)
Leafy spinach (100 g)
Chili flakes (1 tsp)
Chopped tomatoes (1 tin or 200 g)
Tinned chickpeas (200 g, drained and rinsed)
Preparation
Take a large frying pan that is oven-proof and add 2 tsps of olive oil. Heat it over medium heat before adding thyme and garlic. Cook for 4 minutes or until the garlic turns soft (but not brown).
Once the garlic is soft, add the chickpeas and harissa paste. Cook for 2 minutes before adding the tomatoes, chili flakes and spinach.
Bring the mixture to a simmer and then crack the eggs over it evenly. Make sure the yolks remain unbroken.
Simmer the mixture with the eggs on top for 2 minutes.
Transfer the contents of the pan on a hot grill and cook for 2 minutes or till the eggs whites become firm. Make sure that the yolks remain runny.
Remove the pan from the heat and drizzle some olive oil on top. Season with salt and pepper as per your preferences.
2.Rice Stuffed Peppers
What you need
Vegetable stock (2 cups)
Rice (1 cup rinsed and drained)
Salsa (1/2 cup)
Garlic powder (1 and a half tsp)
Black beans (1 can of 15 ounces)
Whole kernel corn (1 cup, drained)
Chili powder (1 and a half tsp)
Cumin powder (2 tsps)
Bell peppers (4 large, halved and seeds removed)
Preparation
Pour the vegetable stock and rice in a large saucepan and bring it to a boil.
Once you see bubbles rising from the mixture, turn down the heat and cover the pan. Let the liquid simmer slowly till the rice is cooked through and fluffy. This shouldn't take more than 20 minutes.
Pre-heat your oven to about 375°F and grease up a baking dish or sheet.
Brush the de-seeded and halved bell peppers with avocado or coconut oil.
Transfer the cooked rice to a bowl and add the rest of the ingredients. Mix them thoroughly and add salt and pepper to taste. You can also experiment with different spices at this stage.
Stuff the oiled and halved bell peppers generously with the mixture and place them in an oven-safe dish. Cover the dish with foil.
Pop the dish in the pre-heated oven and bake for 30 minutes.
Remove the foil and increase the heat to about 400°F before popping the dish back in the oven for another 20 minutes or until the peppers are soft and golden brown in color. If you just want soft peppers, reduce that time to 5 to 10 minutes.
Serve with toppings of your choice such as cilantro.
These two vegan baked dishes can make a hearty breakfast and dinner. For more baked food that is guilt-free, check out more recipes.